The Shelby County Chamber offers various membership levels to meet the needs of your business or organization.  Membership ranges from the basic with the essentials you need to increase visibility and build relationships to the top level that includes sponsorship and marketing opportunities, along with extensive exposure among members and throughout the community.
To learn more about each level and what benefits and services are included wtih each, click on the link below.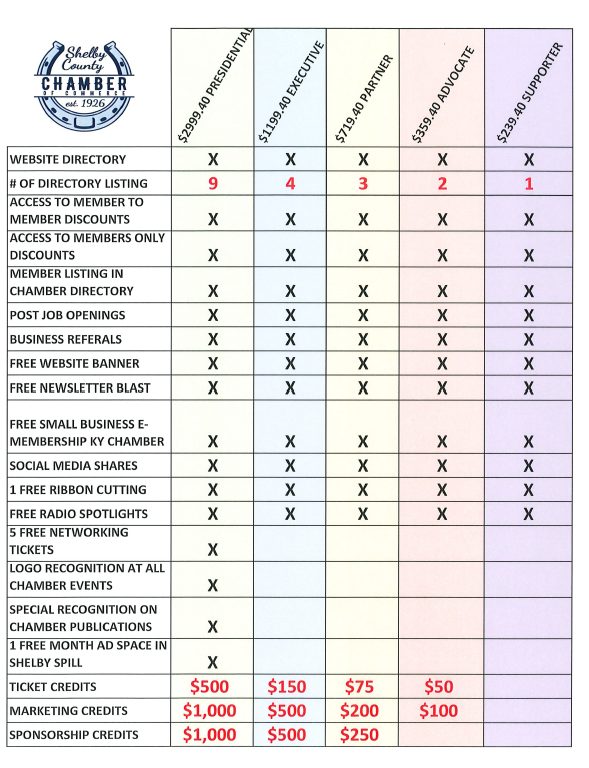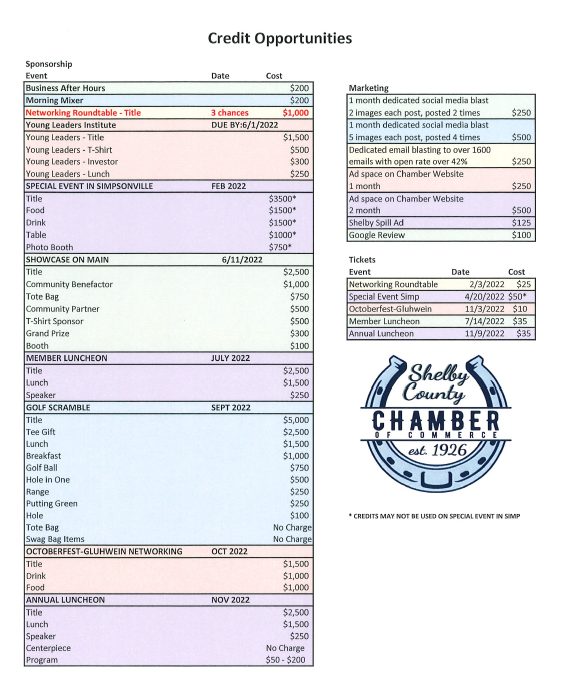 PLEASE NOTE
CREDITS MAY BE REQUESTED TO BE USED FOR ALL EVENTS HOWEVER ONLY A CERTAIN AMOUNT OF CREDITS WILL BE ABLE TO BE USED PER EVENT. ONCE PRE-SET AMOUNT OF CREDITS IS REACHED FOR THE PARTICULAR EVENT, MEMBERS REQUESTING TO USE CREDITS MAY BE ASKED TO PROVIDE A 50/50 CREDIT/MONETARY SPLIT FOR THEIR CREDIT USAGE. ALL WILL BE DISCLOSED PRIOR TO EVENT. TO HELP ENSURE CREDITS ARE ABLE TO BE FULLY USED, WE URGE MEMBERS TO CONTACT OUR OFFICE IN ADVANCE WITH ITEMS THEY WISH TO USE THEIR CREDITS FOR.